June is National Fresh Fruits and Vegetables Month!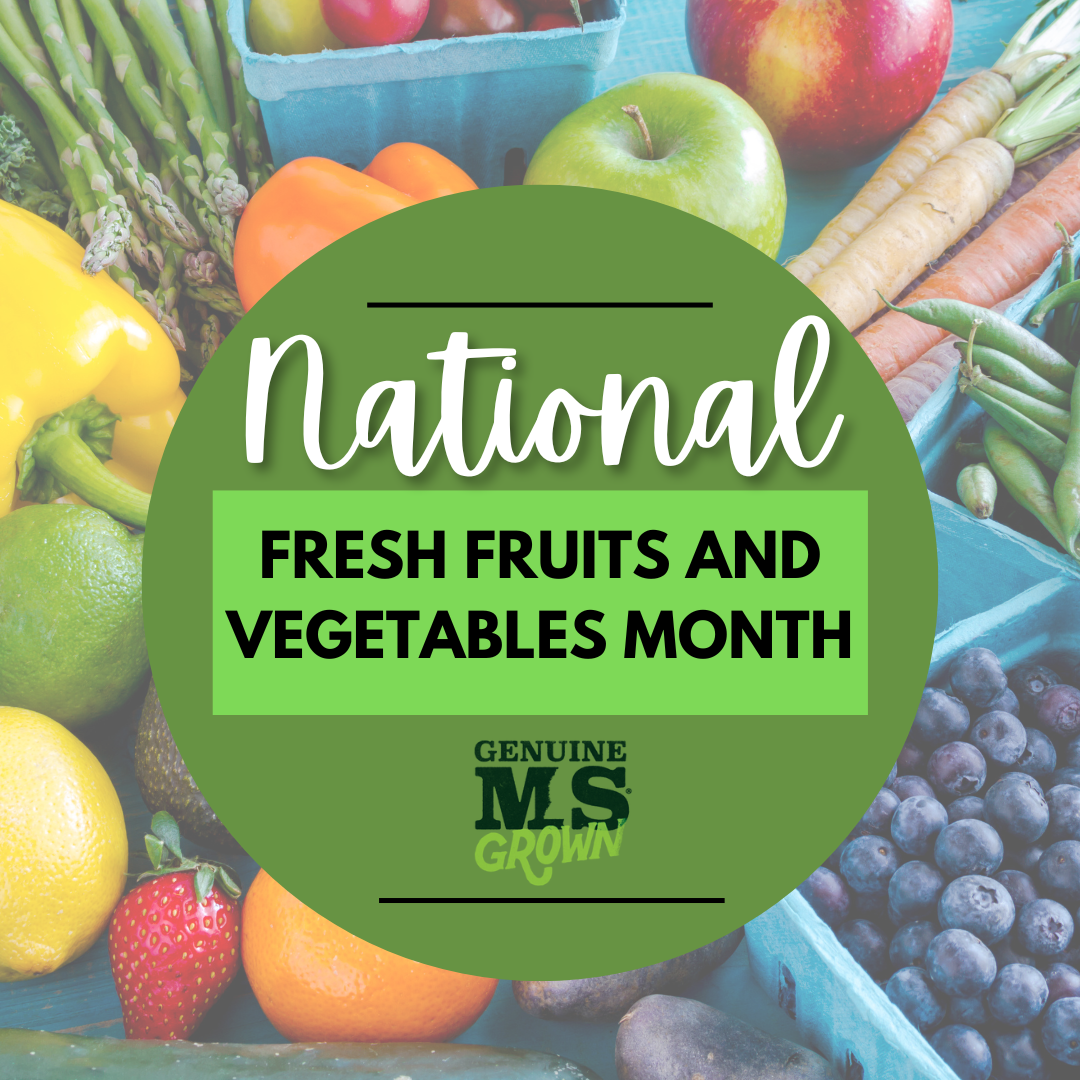 Happy Fresh Fruit and Vegetables Month!!
Why is it important to eat fresh fruits and vegetables?
According to the USDA, eating a diet rich in fruits and vegetables as part of an overall healthy diet may reduce the risk for heart disease, including heart attack and stroke. They also may protect against certain types of cancers! According to the CDC, Mississippi's top two (2) ranking in deaths is due to heart disease and cancer. Adding nutritional fruits and veggies to your daily meals is vital in leading a healthier lifestyle. Luckily, we have resolved the hardest step for you! Finding local farms to purchase local products has never been easier now that Genuine MS® is here!
Heart.org gives us 5 Reasons to Eat more Color:
Colorful, delicious and nutritious foods keep our bodies and minds healthier, longer.
Lots of the good.
Fruits and vegetables provide many beneficial nutrients. Add fruits and vegetables to meals and snacks for a nutritional power boost.
Less of the bad.
Fruits and vegetables are typically free of trans fat, saturated fat and sodium. Load up!
Won't weigh you down.
Fruits and vegetables are low in calories. They fill you up thanks to the fiber and water they contain, which can help manage your weight.
Super flexible superfoods.
All forms of fruits and vegetables – fresh, frozen, canned, and dried – can be part of a healthy diet. They are among the most versatile, convenient and affordable foods you can eat. Choose those with little or no added salt or sugar.
A whole-body health boost.
A healthy eating plan full of fruits and vegetables can help lower your risk of many serious and chronic health conditions, including heart disease, obesity, high blood pressure, diabetes and some types of cancer. They're also essential to your everyday health.
If you're wanting to add more fruits and vegetables into your daily diet, try to support our local farmers by visiting a farmers market or local producer near you! If you're in Central Mississippi, The Mississippi Farmers Market is having their Summer Kickoff June 3rd, 2023, from 8am-1pm where they will have Mississippi produce, specialty items, and fun for all! Come see us in the Genuine MS® Store after you shop around for your local produce!
Find other Mississippi Grown producers at Grown Archives – Genuine MississippiGenuine Mississippi (genuinems.com)
Sources: Stats of the State of Mississippi (cdc.gov)
Celebrate Fresh Fruit and Vegetable Month | American Heart Association