July is National Independent Retailer Month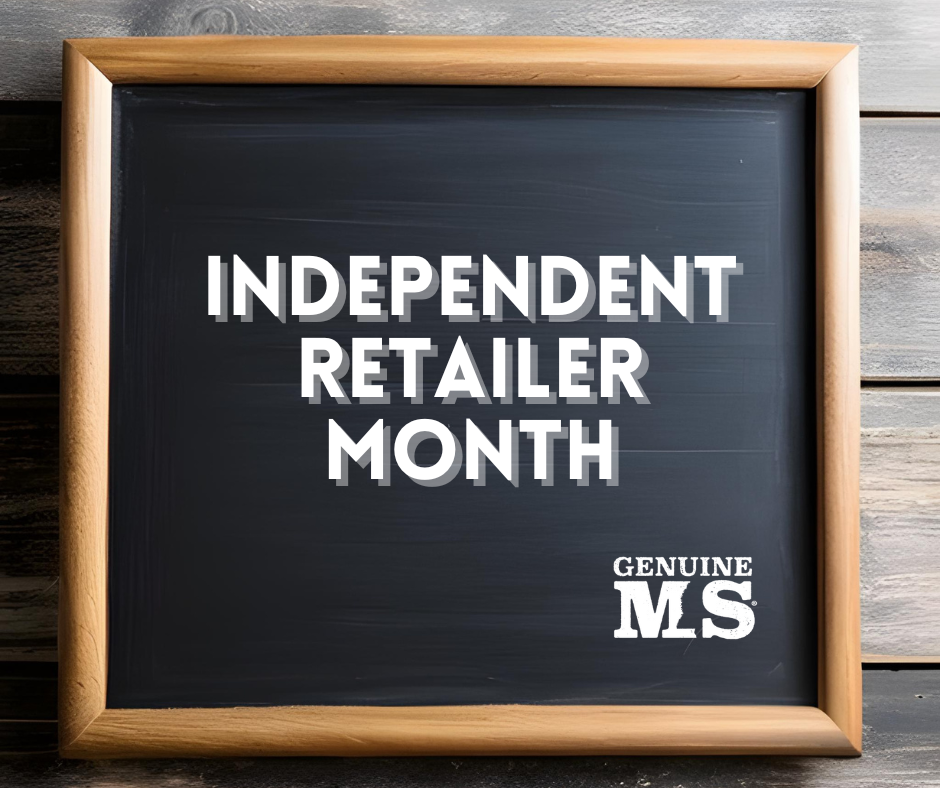 ---
Mississippi's Independent Retailers are the backbone of our great state. Let's take a moment to recognize and honor the countless hours of hard work and dedication that our community leaders, families, and neighbors have put into our local businesses by shopping local during Independent Retailer Month!
---
In our program, we have a variety of Mississippi Independent Retailers across our great Magnolia state to help you shop locally and support Mississippi.
Raggio Mercantile is owned by Josh Raggio. His goal started in 2013 where he wanted to make a personal duck call to go hunting with, and never expected that he would be selling them 10 years later. His personal goal turned into owning a small mercantile store, a new workshop and high-end sporting lifestyle shop, in the middle of Raymond, his hometown.
Sipp Gifts is dedicated to providing customers with a memorable shopping experience that celebrates the timeless customs and rich culture of Mississippi. From heartfelt presents to delectable southern treats, customers are sure to find something to satisfy all refined tastes.
The Lucky Hen is owned by Kim Porch and is located in Raymond. Her passion started in Learned, MS, many years ago where she supported Mississippi artisans, entrepreneurs, and crafters. Her store offers a variety of Mississippi products like soaps, pottery, coffee and much more!
The Crooked Letter has been committed to celebrating Mississippi's talented Makers since 2017. Founded by a family of native Mississippians, they seek to show off the high-quality products that Mississippians produce! In their store, you can find leather goods, cookbooks, gourmet food, and much more!
LPF Southern Market located in Morton, is an old-fashioned general store. There is a restaurant inside the market and a "takery", when the restaurant is closed. The products and ingredients are Mississippi sourced as much as possible. They serve USDA approved beef, raised through Lee at Line Prairie Farms.
The Flora Butcher owned by Chef David Raines, is an old-world style butcher shop that specializes in local animals and artisan products. Every product has its own personal story, and the Flora Butcher prides itself on bringing these stories to life.
Cockrell's Farmers Market is a 3rd generation family-owned farmers market and gift shop that's a one stop shop. "We take great pride in finding local Mississippians to make some of the best products there is to offer."
MS Peanut Supply and Equipment Co located in Aberdeen, has been providing quality goods and services since 2009. Local customers and farmers alike can find a wide selection of items in their store, ranging from delicious snacks to sturdy work boots.
Mississippi Art and Wine Gallery, owned by the Romanowshi's, is located in Greenwood Springs. From wine tastings to weddings, family reunions, and business functions, the Gallery can be used for a variety of events where they have all the flavors of their own homegrown and produced wines. Mrs. Romanowshi's art is on display throughout the venue and are available for purchase.
Down Home Milling Co. is located in Holcomb and is owned by Jacob and Andrew, two farmers connected by down home roots. At Down Home Milling Co., they oversee the entire farm to fork process. They grow, harvest, mill, and package their own grain right here in Mississippi. You will see their stamp of authenticity on their products proudly stating, "Grown by us, Ground by us."
Charlies U-Pik has two locations, Wiggins and Lucedale. It is a unique experience where you can pick your own Mississippi Grown produce. They also have a retail store where you can purchase already picked produce straight from their farm!
Indianola Pecan House, owned by The Timbs Family, is located in Indianola. The Timbs family has been in the pecan business since 1979, first buying, selling, and shelling the prized nuts. They later began developing gourmet flavored pecans. You can purchase their delicious pecans in Indianola or their online store.
Donna's Produce strives to provide quality homemade products such as, over 25 flavors ice Cream, a variety of cakes, pies, candies and fudge. At Donna's, you will find a variety of Mississippi Crafted products such as home decor, bath bombs, soaps, and much more!
Rivers Market, located in Brandon and Byram, is the perfect place to find something special! Their family-owned and operated plant farm and nursery offers a year-round market with a variety of products, including yard decor, fresh produce, Mississippi Crafted items, and house decor. They provide quality service and products that will make a great addition to any meal, gift, or home decor.
The Mississippi Gift Company was founded over 25 years ago in Greenwood. They have over 750 Mississippi products from over 150 Mississippi gourmet food companies, entrepreneurs, and artists. It's a one-stop shop for all things Mississippi!