Genuine MS® at the Dixie National Livestock Show and Rodeo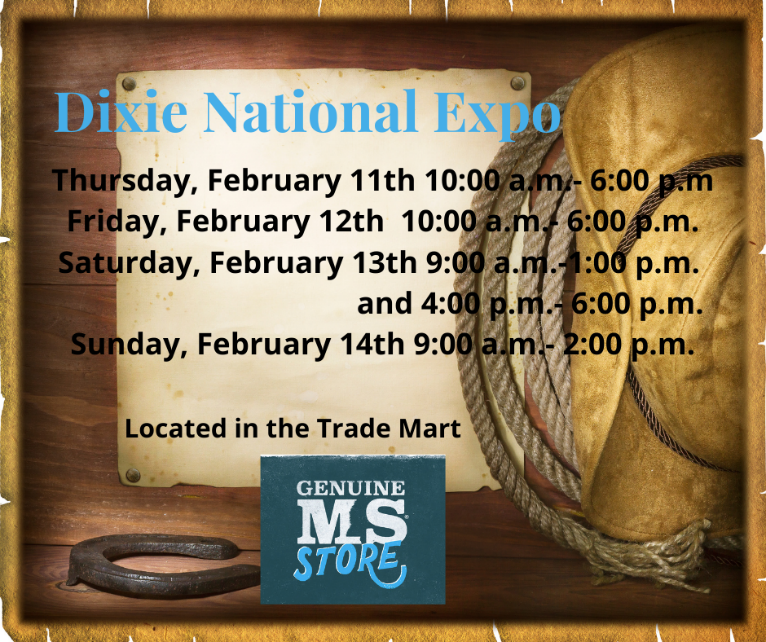 Genuine MS® is roundin'-up its members for the Dixie National Livestock Show and Rodeo. Our concession stand will open on February the 3rd in Barn 14. We will be open daily with a snacks and drinks. We are proud to be providing items that will help keep you going throughout the day. Brown Bottling will be available with Pepsi products and water. Honestly Beef will have yummy beef sticks, jerky and summer sausage in several flavors. The Popcorn Place, out of Flowood, will have popcorn in sweet and savory tastes such as: cheesy, caramel, barbeque pickle ranch, and Kettle Corn. Northshore Coffee from Jackson will have coffee for those that need a "pick-me-up" or just a "warm-me-up". Southern Star Pork Skins will have five different flavors to choose from as well.
Toward the end of the week, Genuine MS® will close Barn 14 and move down to the new Trade Mart for the Dixie National Expo. We will still be serving all concessions from Barn 14 plus so much more. We will have Genuine MS® member products that are grown, raised, made and crafted from our state in our store.
During our store hours we will have demonstrations from a few of our members. Highside Chemical from Gulfport will be demoing cutting sealants and adhesives used in industrial settings. Sidney Blue Leather will have a leather cutting table there for custom leather products, knives, wallets and purses.
In addition to these great demos we will have jewelry from Southern Stamped from Seminary. We will have salsa and pepper jelly made by Grumpy Man Salsa from Purvis. Other food items will include grits, corn meal, rice, fish fry, mesquite seasoning and rubs. Ala Carte Alice from Louisville has mixes for shrimp and grits, Cajun cookin' and soups. Genuine MS producers from New Albany and Poplarville will showcase teas of all flavors and coffee roasted right here in our state.
Crafter from all over the magnolia state will be on the shelves of the Genuine MS® store that include Rhoads Designs, Etta B Pottery, and Blue Deer Candles. There will also be bath products from B Graham Beauty including bath bombs, lip balms, soaps, and body scrubs. Covenant Creek Farms provides unique and moisturizing goat milk products such as lotions and wonderfully scented soaps.
The Dixie National Livestock Show and Rodeo is a great experience and now with this added convenience of being able to shop local it's a great opportunity for the producers of our state. Make it a point to come by Barn 14 and the Expo to support Genuine MS®.