End the Summer with Genuine MS®!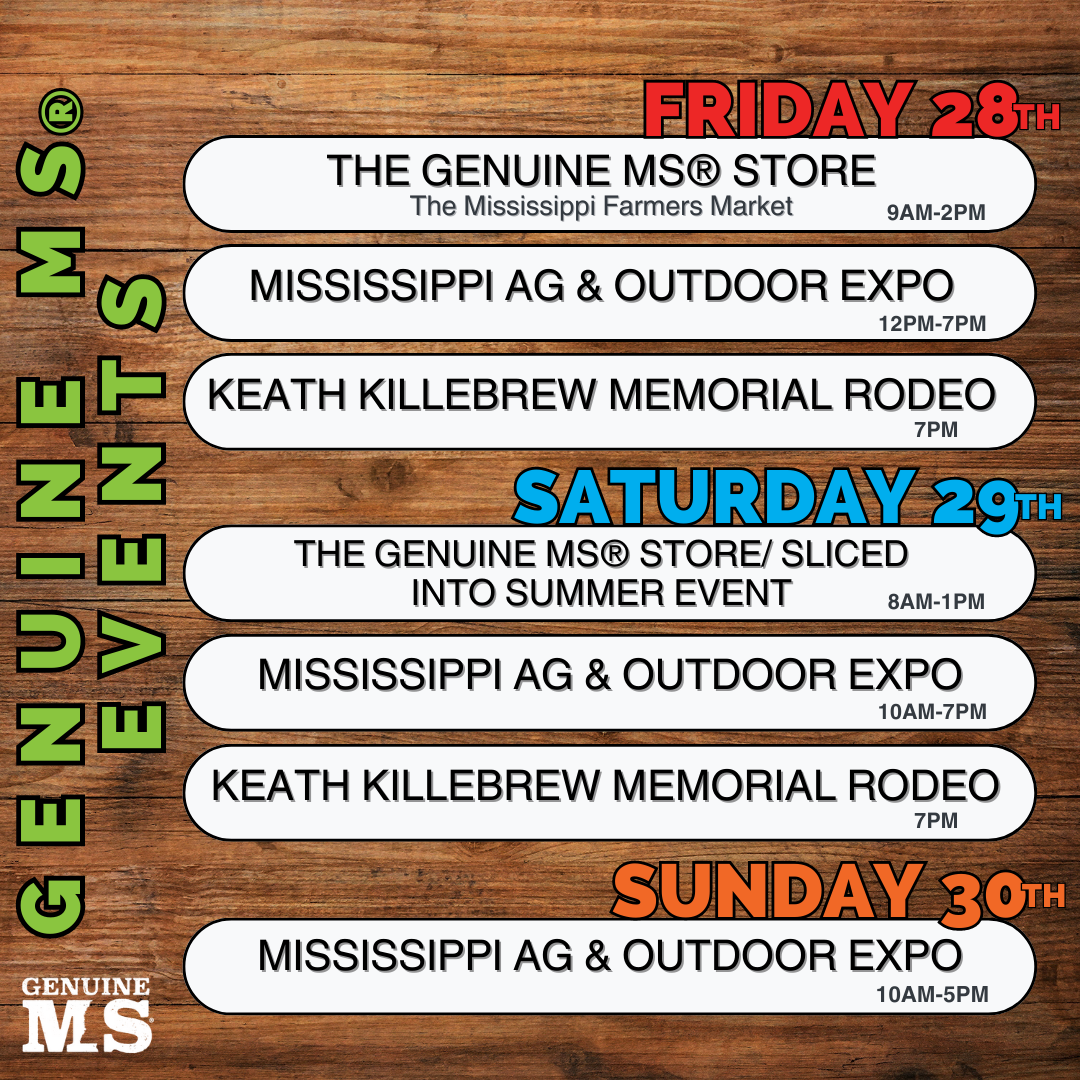 July 28-July 30
---
Make the most of the end of summer with a weekend of exciting activities that the whole family can enjoy!
The Mississippi Fairgrounds is offering a weekend of entertainment the last weekend of July! The Keath Killebrew Memorial Rodeo will be in the Mississippi Coliseum Friday, July 28 and Saturday, July 29 with concerts from Chapel Heart and Drake Milligan following the rodeo. You can find tickets at Keath Killebrew Memorial Rodeo Tickets | Single Game Tickets & Schedule | Ticketmaster
Along with the Keath Killebrew Memorial Rodeo, the Mississippi Ag and Outdoor Expo will be held in the Mississippi Trade Mart Friday, July 28th through Sunday, July 30th! It is the largest display of everything for the outdoors in Mississippi! Rods, reels, bows, UTVs and ATVs, tractors, farm equipment, power equipment and more – you can find it all with special Expo pricing at the Ag and Outdoor Expo. The Genuine MS® Store will popping up for the event and will have the very best of everything Grown, Raised, Crafted, and Made in Mississippi! Come shop the store to grab your gourmet food items, pottery, candles, and much more!
The Mississippi Farmers Market will be having their Sliced into Summer event Saturday, July 29th from 8am-1pm to celebrate the upcoming National Farmers Market Week (August 6-12) and National Watermelon Day (August 3). You can meet the 2023 Mississippi Watermelon Queen, Saylor Sullivan, snack on a complimentary slice of Mississippi watermelon, and grab a back-to-school lunchbox provided through MDAC. The Genuine MS® Store will be handing out a staff favorite, Flathau's shortbread cookies! Come shop local with Genuine MS® and the Mississippi Farmers Market!
*The GenuineMS® Store will be open for normal business hours. Tuesdays-Fridays 9am-2pm and Saturdays 8am-1pm.