Welcome to La Terre Farms on the Mississippi Gulf Coast. We are flower farmers as well as seasonal wreath and garland makers, harvesting products grown on our 500 acre timber farm. We welcome visitors to our farm to explore trails, to fish in our stocked spring fed ponds, to cut Sunflowers and to wade in our artisan fed sandy clear creek. Conveniently located 55 miles east New Orleans and 10 miles miles north of Bay St Louis, LaTerre is perfect for a day trip. We sell our flowers at local farmers market as well as to local florists. We hand make garlands and seasonal wreaths which are available for purchase on our website shop. Beginning Spring 2022, we will host Farm Friday's with variety of workshops, artists, yoga wellness retreats, social events including birthdays, farm to table dining and school educational tours. Future plans may include a glamping venue, cabin rental, and a music/reception pavilion. Visit our web site (LaTerre Farm.com) for photos of the farm and our critters, featuring our cows, donkeys and horses.
What Makes Our Products Great?
We are blessed with an abundance of native plants and trees such as magnolia, holly, smilax vine , and pine. In addition to native greenery, we plant elaeagnus, leyland cypress, carolina sapphire, pussy willows, variegated pittosporum and camellia to compliment our native stock. We are able to incorporate our native greenery into hand made, one of a kind, wreaths and garlands perfect for holidays and weddings. In addition, we plant cool hardy and warm annual flowers such as bachelor buttons, snapdragons, sunflowers, zinnias and marigolds, which we sell to local florists and at farmers markets. We open the farm for photo shoots and Farm Friday's, where various planned events are scheduled. This property has an interesting history, dating back to Indian tribes camping on the creek (Bayou LaTerre) to moonshiners setting up their stills to take advantage of the native springs A weekend archeologist might discover anything from an arrowhead to a copper sipping cup!
What makes us most proud of producing Genuine MS products?
The owners of the farm both have an agriculture background, with the wife growing up picking berries in the summer in Oregon and the husband working on his fathers row crop farm in Louisiana. Both spent their work life as lawyers, confined to their offices. Now, in retirement, they both yearned to return to their roots. So, with the help of their recent college graduate son Connor, they converted the timber land into a working farm, taking advantage of the native plants and trees and the other natural offerings of this unique property. LaTerre Farms now shares its bounty with all who appreciate our natural world and enjoy fruits of the land. It has certainly been rejuvenating for all of us watching the farm flourish along with creating custom greenery products. The flowers that bloom and the beautiful custom wreaths and garlands made on the farm are reminders of the beauty of farm life, a simpler time, a time to embrace family and enjoy the natural beauty we are surrounded by everyday.
How does buying Genuine MS products make a difference here in Mississippi?
Mississippi is an agricultural state, and it's home grown products make it unique. Support of our farmers is crucial to Mississippi's economy, and enables those who work in agriculture to carry on a long standing tradition. Our farmers take pride in providing home grown products to our fellow Mississippians, as well as to out of state consumers. The often difficult, but always independent, lifestyle of Mississippi farmers depends particularly on the support of our fellow Mississippians, and generally on the support of consumers in our neighboring states. While row crops in the Delta and poultry by the corporate growers dominate Mississippi's agricultural landscape, the small family farms are the less visible backbone of Mississippi's age industry. Support of flower growers and greenery products assures the continuation of a proud industry.
Why should people seek out and buy Genuine MS products?
Mississippi products are unique. LaTerre Farms is a unique property….it's soil is ideal for several varieties of flowers, berries, trees and vines. It's topography also is unique. There are very few places that offer such a variety of plants alongside sandy-bottomed creeks and spring fed ponds. Rolling hills offer interest and challenges to hikers. Fishing, kayaking and swimming in ponds and creeks is "about as uniquely Mississippi as it gets." We don't ask our guests to patronize us simply because we're Mississippians, but because our products are uniquely Mississippi and our property is quite simply….unique, unlike any other. Come see for yourself.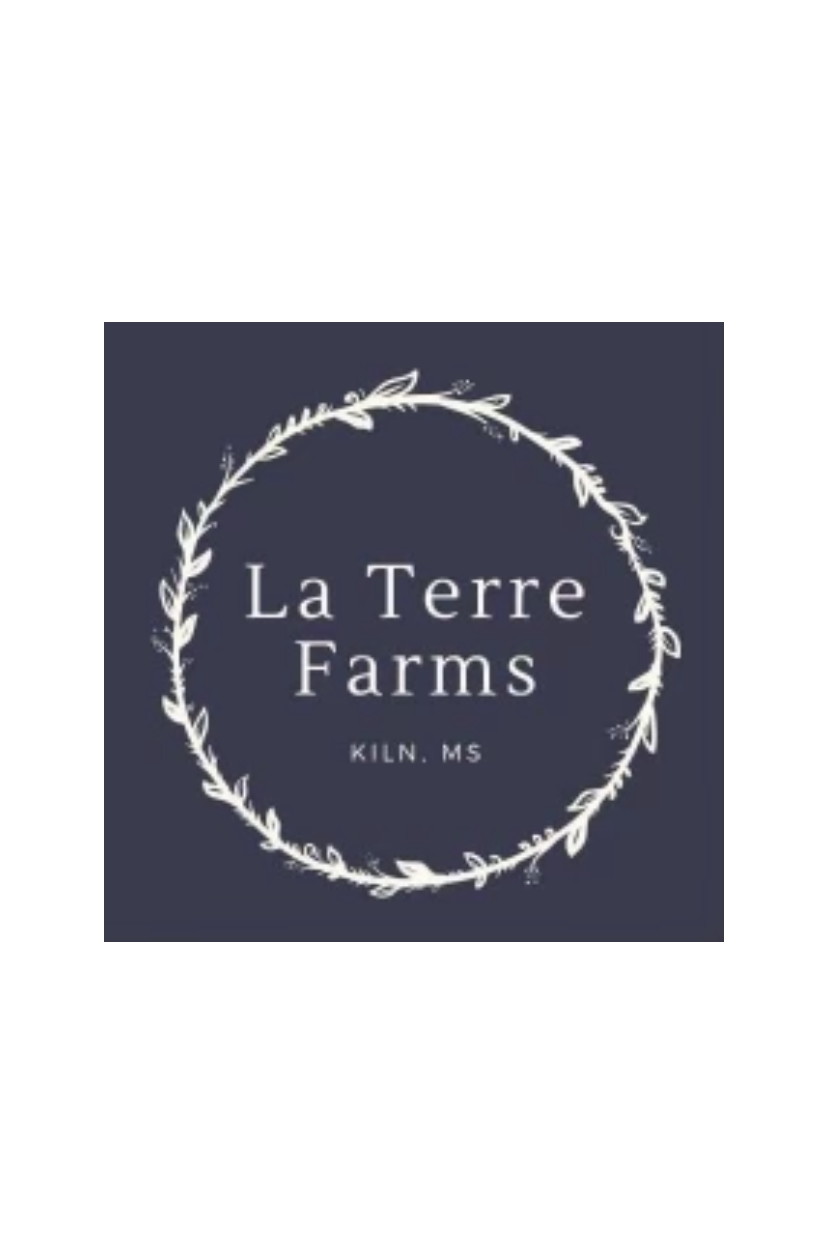 Some of our products are seasonal.
Garlands and Seasonal Wreaths all year, Fresh Flowers March-October
Locations
Here are a few locations where you can find our products.
Hancock County Farmers Markets, Bay Saint Louis MS
Hancock County Farmers Market, Longfellow Dr, Bay St. Louis, MS, USA
Farmers Market